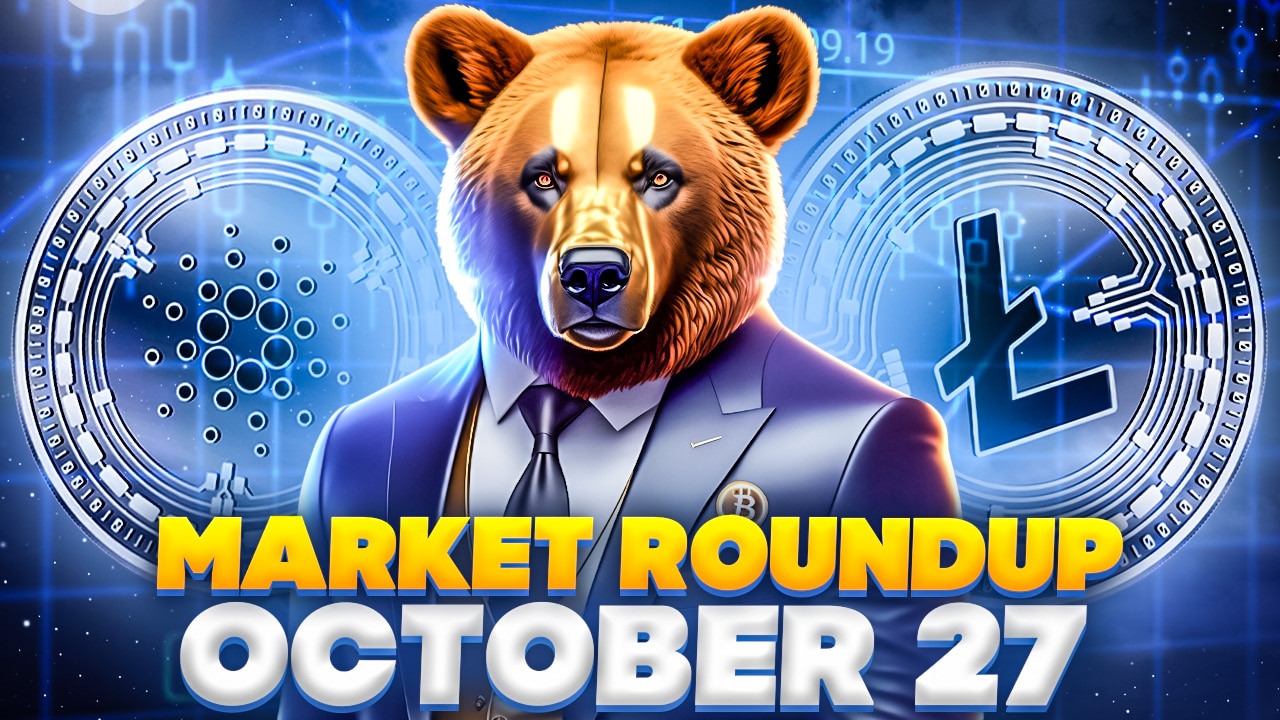 Bitcoin price prediction has become the talk of the crypto community as BTC recently retraced to a crucial $34,000 support level. Amidst an array of fundamental changes in the cryptocurrency landscape, from the U.S. SEC's ongoing review of Bitcoin ETP proposals to the U.K.'s stringent crypto regulations, the leading digital currency showcases its resilience.
Not to mention, significant asset transfers from FTX's bankruptcy estate have further stirred the pot. As Bitcoin hovers around this pivotal price point, traders and investors are keenly watching for signs of the next potential surge.
With the market's dynamics constantly evolving, the question on everyone's mind is: when will Bitcoin embark on its next leg up?
Current Price and 24-hour Movement
Bitcoin is presently trading at $33,960. Over the last 24 hours, it has experienced a minor setback of about 1%, with its trading volume standing impressively at approximately $16.5 billion. As the unrivaled king of cryptocurrencies, Bitcoin retains its #1 position on CoinMarketCap.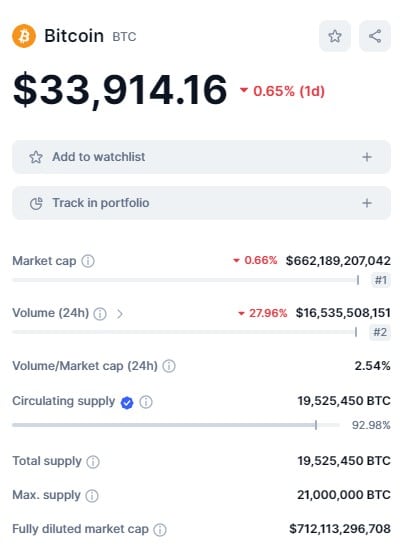 The current market capitalization is a staggering $663 billion. The circulating supply of Bitcoin is noted at 19.525 million BTC, steadily approaching its maximum threshold of 21 million BTC.
Bitcoin Price Prediction
The pivotal point for Bitcoin sits at $33,920, which is recognized as the 23.6% Fibonacci retracement level. On the upside, the immediate resistance is pegged at $35,185, with subsequent resistances at $36,100 and $36,975.
On the downside, immediate support is found at $33,130 (38.2% Fibonacci retracement level). Further supports are identified at $32,460 (50% Fibonacci retracement level) and $31,825 (61.8% Fibonacci retracement level).
Technical Indicators
The RSI currently stands at 60. This is a momentum oscillator that measures the speed and change of price movements. Typically, an RSI above 70 indicates an overbought condition, while an RSI below 30 signals an oversold condition. With Bitcoin's RSI at 60, it points towards a slightly bullish sentiment, suggesting that the buying momentum is still prevalent.
The Stochastic Oscillator (STOCH) is currently reading a high 92.327. This range-bound indicator moves between 0 and 100 and is used to identify overbought or oversold conditions. A reading above 80 generally signifies overbought conditions, meaning Bitcoin might be trading at a price higher than its usual range, indicating potential price correction.
The ADX(14) indicates a strong buy signal, registering a value of 62.675. Meanwhile, the ATR(14) underscores high volatility with a value of 1288.0194.
The 50 EMA provides an average of Bitcoin's price over the past 50 days, giving more weight to recent prices. Currently set at $33,760, it acts as a dynamic support or resistance level. With Bitcoin trading above this level, it suggests that the short-term sentiment is bullish, and the price might continue to ascend in the immediate timeframe.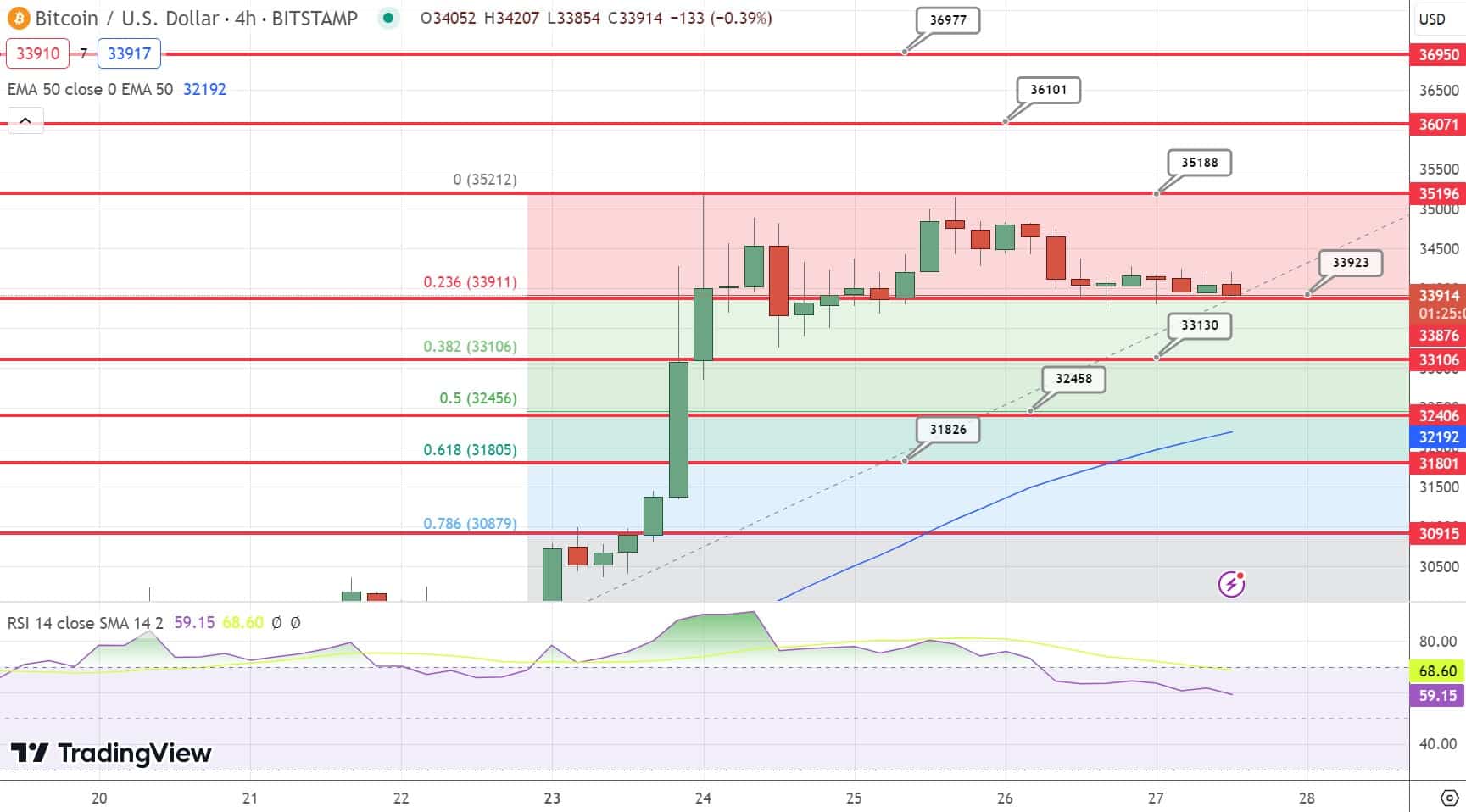 Bitcoin retains a bullish stance above the $33,920 mark, which is the 23.6% Fibonacci retracement level. However, a downward breach of this threshold could usher in selling pressures.
In the short term, market participants might see Bitcoin testing the resistance at $35,185 in the ensuing days.
Top 15 Cryptocurrencies to Watch in 2023
Stay up-to-date with the world of digital assets by exploring our handpicked collection of the best 15 alternative cryptocurrencies and ICO projects to keep an eye on in 2023. Our list has been curated by professionals from Industry Talk and Cryptonews, ensuring expert advice and critical insights for your cryptocurrency investments.
Take advantage of this opportunity to discover the potential of these digital assets and keep yourself informed.
Disclaimer: Cryptocurrency projects endorsed in this article are not the financial advice of the publishing author or publication – cryptocurrencies are highly volatile investments with considerable risk, always do your own research.