Bitcoin is now 86% through on the path toward the next halving. Here's what the last two cycles looked like at the same mark in their lifespans.
Bitcoin Progress Towards Next Halving Has Now Hit 86%
In a post on X, the BTC cycle analyst Root posted an update on the halving progress of the cryptocurrency. The "halving" is a periodic event on the Bitcoin blockchain where the block rewards of the asset are cut exactly in half.
The "block rewards" here refer to the rewards that miners receive as compensation for solving blocks on the network. These rewards serve as the only way to mint new BTC, so the rate at which miners solve blocks can be thought of as the production rate of the asset.
The reason the halving exists is so that this production rate continues to go down over time. If the halving wasn't there, the Bitcoin supply would continue to indefinitely grow at a constant rate, thus potentially leading to the asset's price taking a hit, because of how supply-demand dynamics tend to work out.
With the halving, Bitcoin's inflation remains controlled and the asset becomes more scarce with each of these events, which take place roughly every four years. As halvings are such significant events, many experts use them to define what constitutes a Bitcoin "cycle."
Here is the chart shared by the analyst that reveals the progress towards the next halving event for the asset, as well as how the previous cycles looked at the same stage as now: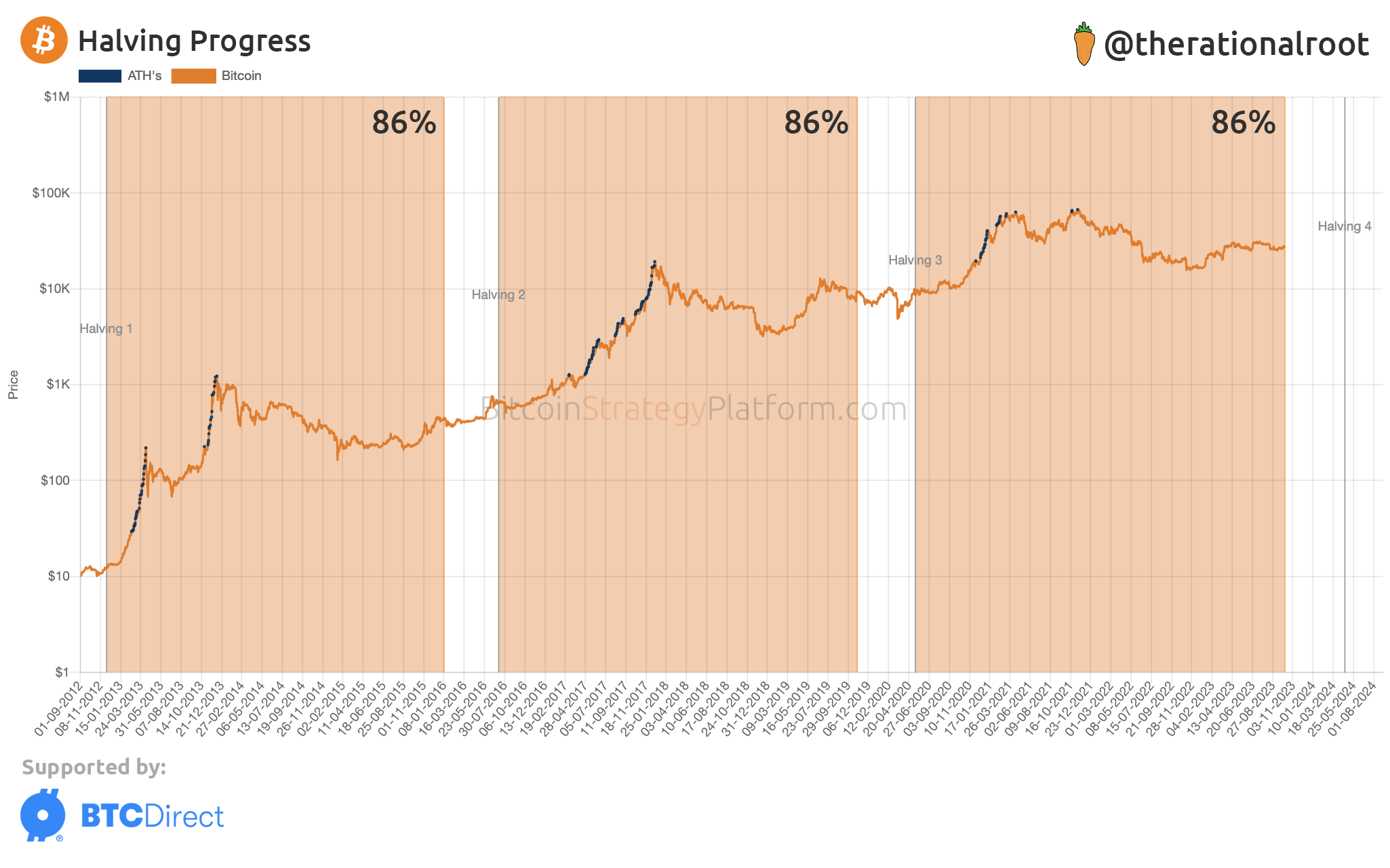 The different BTC halving cycles | Source: @therationalroot on X
As displayed in the above graph, Bitcoin was about 86% of the way through the current cycle at the time Root posted the data. At this same point, the past two cycles were at or near local tops in the asset's price.
In the case of the cycle lying between the first and second BTC halvings, the price declined after this top but was quick to find its feet and returned to an overall upward trajectory.
For the cycle between halvings 2 and 3, though, the coin saw a steeper decline and didn't resume its uptrend until the end of the cycle. It should be noted, however, that the onset of COVID-19, which resulted in a sharp crash for the cryptocurrency, may have played a part in the asset's deviation.
With the next halving fast approaching next year, it now remains to be seen what path Bitcoin will take from here. There have been some similarities between the rally this year and the April 2019 rally, though, which may mean that the cryptocurrency could be more likely to follow the lead of the last cycle.
BTC Price
Bitcoin had been floating just under the $28,000 mark during the past couple of days, but it would appear that the asset has slipped today as its price is now floating around the $27,500 level.
BTC seems to have observed a sharp drop in the past day | Source: BTCUSD on TradingView
Featured image from Yiğit Ali Atasoy on Unsplash.com, charts from TradingView.com, BitcoinStrategyPlatform.com