Scott Johnsson, a notable attorney from Davis Polk, has shed light on a potential clue regarding the approval of a spot Bitcoin ETF by the US Securities and Exchange Commission (SEC) on November 2. The speculation arises following the SEC's decision not to contest the US Court of Appeals for the District of Columbia Circuit's judgment, which favored Grayscale's bid to convert its Bitcoin Trust (GBTC) into a spot Bitcoin ETF.
Johnsson's tweet brought attention to an upcoming closed-door meeting scheduled for November 2, revealing: "November 2 – I believe this is the first closed meeting of the Commissioners since the Grayscale appeal deadline expired and the mandate was delivered. Agenda includes resolving litigation claims and admin proceedings. There were leaks out of the closed meeting ahead of the BITO launch." He added, "It's a date of interest, but no certainty we will get any news."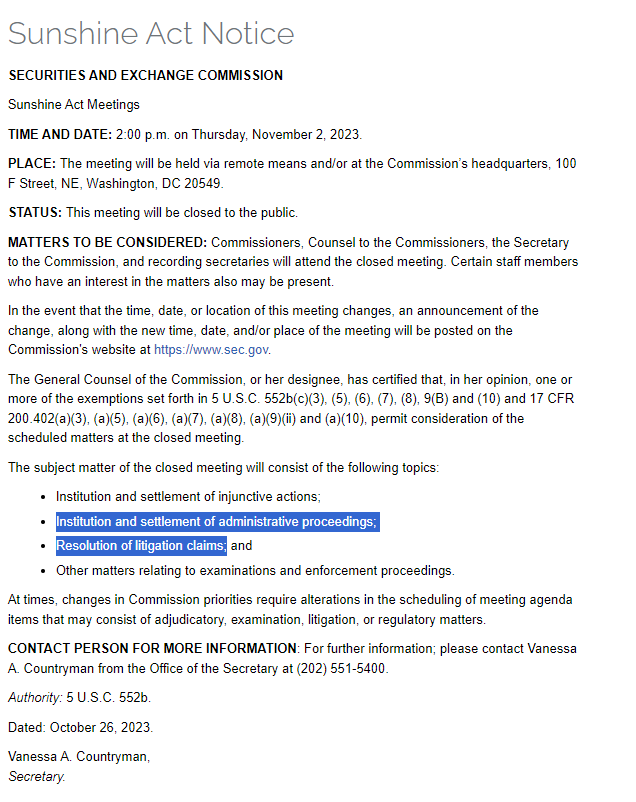 History Repeating For Bitcoin?
This closed-door meeting, outlined in the "Sunshine Act Notice," is set for 2:00 pm ET on the aforementioned date, and though closed to the public, its topics will revolve around "institution and settlement of administrative proceedings" and "resolution of litigation claims."
The Bitcoin community is keenly observing this unfolding scenario, especially after the ProShares Bitcoin Strategy ETF (BITO) – the first US Bitcoin Futures ETF – took off on October 19, 2021. Not only did it mark a significant milestone for Bitcoin, but BITO was the fastest ETF to accumulate over $1 billion in assets after its launch.
It's interesting to note that just days before BITO's launch, Bloomberg highlighted a leak from a SEC closed meeting held on October 14. Bloomberg was informed that the SEC "is poised to allow" the first US Bitcoin futures ETF to begin trading" after they "were filed under mutual fund rules that SEC Chairman Gary Gensler has said provide 'significant investor protections.'"
With Grayscale's spot Bitcoin ETF in view, Johnsson alludes that a leak akin to October 2021 might be on the horizon. The big question will then be whether the SEC will only approve Grayscale or all applicants at the same time.
In recent weeks, the SEC has received numerous amendments from applicants such as BlackRock, Fidelity, Ark Invest, and VanEck. Bloomberg's ETF experts believe that this is a good sign that a Bitcoin ETF is close to approval, while the SEC is trying to get all applicants on the same level with the amendments.
Bloomberg's James Seyffart tweeted yesterday about the most recent amendment by Valkyrie: "UPDATE: Valkyrie Funds joins the prospectus amendment train for their spot Bitcoin ETF. Things still moving behind the scenes."
Johnsson's observations on this amendment influx also stood out, mentioning, "SEC disclosure review cadence is typically in the neighborhood of 2-4 weeks for a normal S-1. It will be interesting to see whether we get any uploaded comments from the SEC and/or further amendments from the likes of Ark/21 and others in the next two weeks."
Furthermore, he noted a significant highlight from SEC chair Gensler's calendar dated June 15, 2023 – the day Blackrock lodged its spot ETF application. Johnsson pointed out, "Fairly hectic and includes a White House [WH] Interagency meeting and meeting with Council of Economic Advisors [CEA] chair. The interagency meeting was the first such meeting he had in 2+ years as chair of the SEC."
Spot ETF Rejection Still Possible?
Despite the hopeful signs, some believe that Gensler might unexpectedly turn the tables on spot Bitcoin ETF applications. Dave Nadig posits this as a possible "Gensler semi-comedic rug-pull," Bloomberg's ETF analysts, James Seyffart and Eric Balchunas, consider such a move as "amazingly sadistic."
Responding to these speculations, Johnsson remarked, "Ha, I've been spending weeks/months trying to imagine a way to make sense of this process and result in a Gensler rug. It's been difficult… but the threat always looms."
At press time, Bitcoin traded at $34,314.
Featured image from Shutterstock, chart from TradingView.com